Company Profile
Trading name

FUJI OIL ASIA PTE. LTD.

Managing Director

Hitoshi Shindachi

Established

March 2012

Details of business

Regional headquarters for Asia.
Sales of vegetable oils and fats, industrial chocolate, and emulsified and fermented ingredients for confectionery and bakery by the Fuji Oil Group.

Capitalization

68.5 million USD

Head Office

61 Science Park Road, #03-15/24 The Galen Science ParkⅡ, Singapore 117525

Affiliated companies

FUJI OIL (SINGAPORE) PTE. LTD.
WOODLANDS SUNNY FOODS PTE. LTD.
PALMAJU EDIBLE OIL SDN. BHD.
FUJI GLOBAL CHOCOLATE (M) SDN. BHD.
UNIFUJI SDN. BHD.
FUJI OIL PHILIPPINES, INC.
PT. FREYABADI INDOTAMA
PT. MUSIM MAS-FUJI
FUJI OIL (THAILAND) CO., LTD.
FREYABADI (THAILAND) CO., LTD.
INDUSTRIAL FOOD SERVICES. PTY. LTD.

MORE INFO
Group Outline
Meeting Needs around the World by Utilizing Group Synergy.
The Fuji Oil Group has manufacturing facilities in 14 countries, in Japan, China and other Asian countries, the United States, Europe and Africa. Each group company is developing, producing and selling food products locally in response to regional needs and demands.
The Fuji Oil Group has established a supply chain-management system.
1 Raw Material Procurement
For the past half century, the Fuji Oil Group has created extensive procurement channels of raw materials from around the world by building a robust network. In addition, by establishing manufacturing sites in the regions where we source from, we are able to obtain high quality materials and supply them in a stable fashion. It goes without saying that we take quality seriously, so all of our materials are thoroughly inspected for trace chemical residue and other impurities to ensure they meet a high standard of safety and reliability.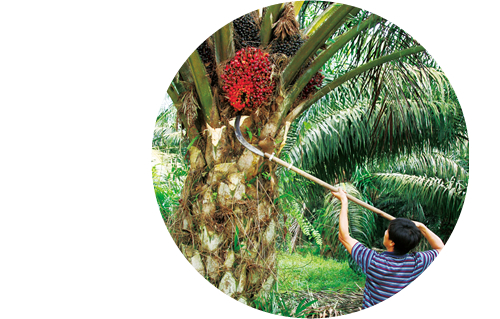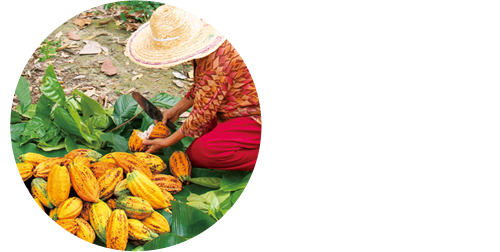 2 Research and Development
For more than 60 years, the Fuji Oil Group has been developing and refining its technologies, to meet and achieve higher quality products to serve the food industry. Throughout the years, with the dedicated and highly committed Fuji Oil team, we continuously improve the products to meet the higher standard.
Integrated Development Workflow
In addition to basic research into developing new materials, we pursue the latest refinements in products that are delicious and healthy for the body. Our comprehensive and integrated R&D system allows us to engage in applied development and create products that are relevant and suited to the needs of the market, meeting our customers' diverse demands.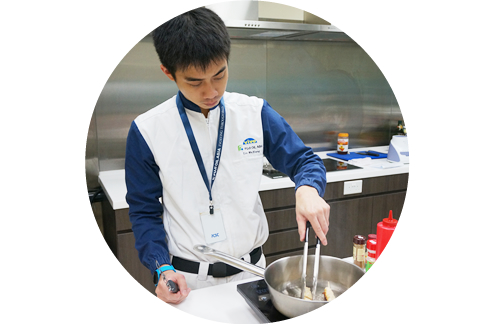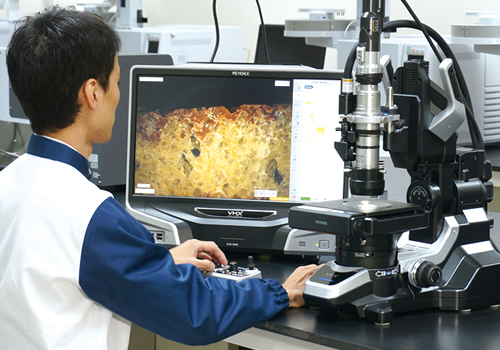 3 Manufacturing
The Fuji Oil Group has manufacturing sites in major countries in Asia, to respond appropriately to local demand. Through advanced quality control, we also ensure a high degree of product safety and reliability. We have established a comprehensive system for quality control and verification, and the entire Group is actively working to acquire international certifications including ISO and HACCP.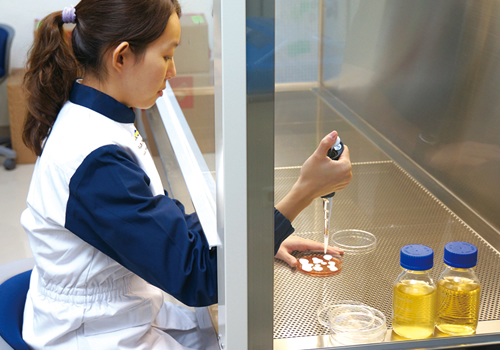 4 Delivery
Working with our partner companies, The Fuji Oil Group is building a system for the safe and reliable delivery of products. Products are shipped in various containers ranging from 1000ml brick packs to iso-containers of more than 20 tons. We deliver the quantity you need, when you need it.